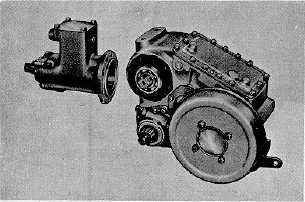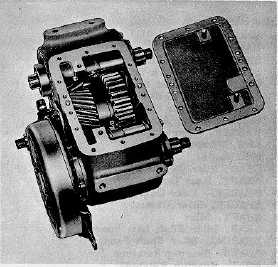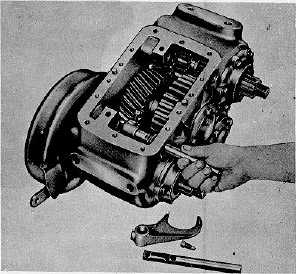 TRUCK SERVICE MANUAL
TM 5-4210-230-14&P-1
TRANSMISSION
DESCRIPTION
A  transfer  case  is  a  gear  box  located  between  the  main
transmission  and  rear  axle.'  Its  purpose  is  to  transfer  power
from the transmission to the front driving axle as well as the
real driving axle.
The transfer case incorporates a front axle declutch which
is used to drive the front axle whenever the vehicle is used on
off-road operations or operated on steep grades.
The  transfer  case  also  provides  an  extra  gear  reduction
(Lo) in the vehicle power train.
The  TC-155  and  TC-156  transfer  cases  are  four  shaft
clover-leaf type, two-speed units. The case contains constant
mesh  helical  and  spur  gears  with  the  shafts  supported  by
roller and ball bearings.
DISASSEMBLY
Disassembly
of
Transfer
Case
After   removing   the   unit,   thoroughly   clean   the   exterior
portion before proceeding with the disassembly.
1.
Remove drain plug from the bottom of unit and drain
oil.
2.
Remove nuts and take off all yokes or flanges.
3.
Remove capscrews and lockwashers, and pull off the
power-take-off assembly, or rear cover if PTO is not
used (Fig.  3).
4.
Remove   capscrews   and   lockwashers   and   lift   off
cover and gasket (Fig.  4).
5.
Remove detent balls and springs.
Fig.  3.
Fig.  4.
6.
Cut lock wire and loosen shift fork set screws.
7.
Pull  both  shift  shafts  out  through  front  of  case,  if
possible  (Fig.    5).    Otherwise,  use  a  soft  metal  drift
and  drive  shafts  and  expansion  plugs  out  through
rear of case.
8.
Remove oil seals from front of case, if necessary.
9.
Lift out range shift fork and declutch fork.
10.   Remove  front  output  shaft  bearing  cap  and  gasket.
Pull shaft and declutch collar from case (Fig.  6).
Fig.  5.
CTS-2048Q  Page 4
PRINTED IN UNITED STATES OF AMERICA