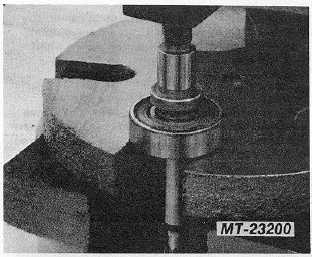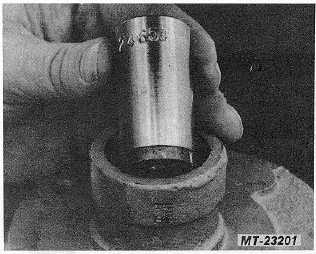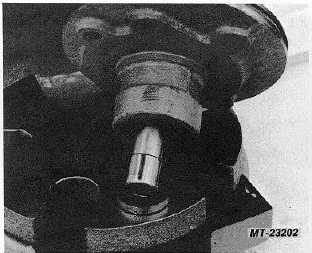 TM 5-4210-230-14&P-1
TRUCK SERVICE MANUAL
STEERING
Fig. 20   Press Shaft From Bearing
Fig. 21   Press Shaft Into Bearing
4.
If  seal  has  been  leaking,  the  shaft  has  been  replaced,
or  the  pump  subjected  to  extremely  high  temperature,
the  seal  should  be  replaced  To  replace  only  the  seal,
pry it out with a screwdriver and press new seal in until
it bottoms on the housing using seal installer SE-2806
(Fig. 22).
Fig. 22   Install New Pump Seal
5.
If the bearing ride surface on the pump shaft is scuffed
or   fretted,   or   the   needle   bearing   appears   damaged,
replace  both  the  seal  and  needle  bearing.    Remove
bearing  and  seal  with  Tool  SE-2805  (Fig.  23).    Press
new  bearing  in  place  using  Tool  SE-2804  (Fig.  24).
Bottom   shoulder   of   tool   on   pump   housing   to   seat
bearing correctly.
Fig. 23.   Remove Needle Bearing and Seal
CTS-2296R  Chapter 3, Page 8
PRINTED IN UNITED STATES OF AMERICA