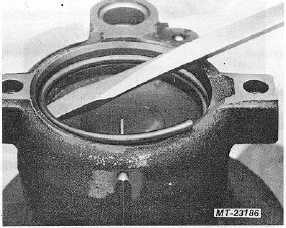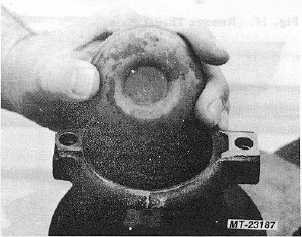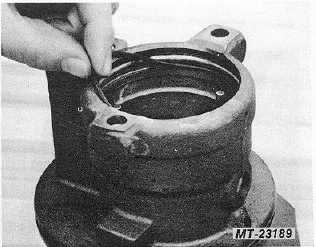 TM 5-4210-230-14&P-1
TRUCK SERVICE MANUAL
STEERING
Fig. 7   Remove Retaining Ring
7.
Remove end plate and end plate "0" ring. End plate is
spring  loaded  and  will  generally  sit  above  the  housing
level  for  ease  of  removal.    If  sticking  should  occur,  a
slight rocking of the end plate should be used to free it
(Fig. 8).
Fig. 8   Remove End Plate
8.
Remove pressure plate spring and end plate "O" rings
(Figs. 9 and 10).
Fig. 9   Remove Spring
Fig. 10   Remove End Plate "O" Ring
9.
Release  pump  housing  from  vise.    Invert  housing  and
bump bench sharply (Fig. 11). (Use clean shop towel to
catch parts.) The impact should free the entire rotating
group. If it does not, bump again.
CTS-2296R  Chapter 3, Page 5
PRINTED IN UNITED STATES OF AMERICA