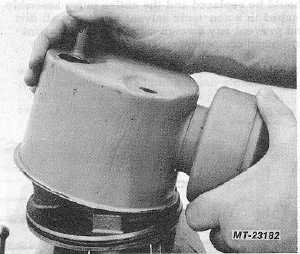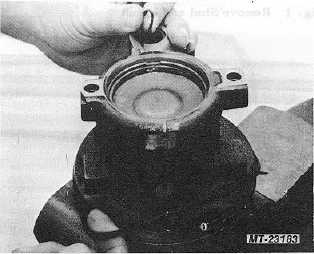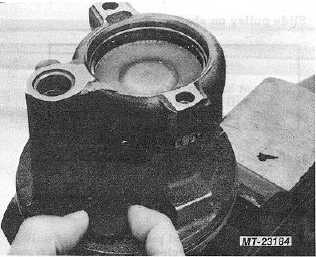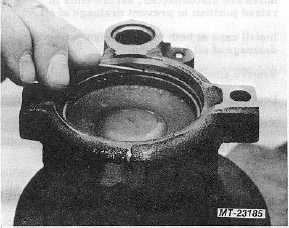 TM 5-4210-230-14&P-1
TRUCK SERVICE MANUAL
STEERING
2.
Remove  stud  and  union  11/16  box  (stud)  and  l--inch
deep well socket (union), (Fig. 1).  Tip pump to remove
flow-control valve and spring. (Fig. 2)
3.
Remove  reservoir.    Reservoir  may  be  removed  from
,housing by rocking it back and forth to unseat the "O"
ring (Fig. 3).  Remove housing and union "0'" rings and
discard (Fig. 4).
Fig. 3   Remove Reservoir
Fig. 4   Remove Housing and Union "O" Rings
4.
Remove  magnet  from  housing  and  clean  with  solvent
(Fig. 5).
Fig. 5   Remove Magnet
5.
Rotate  retaining  ring  with  blunt-nosed  punch  until  the
ring   opening   is   approximately   6   mm   (1/4   in.)   from
knock-out hole in pump housing (Fig. 6).
6.
Insert needle-nosed punch into knock-out hole and tap
with  hammer  until  ring  is  forced  away  from  housing.
Insert screwdriver beneath retaining ring and pry away
the full diameter until the ring is free (Fig. 7).
Fig. 6   Rotate Retaining Ring
CTS-2296R  Chapter 3, Page 4
PRINTED IN UNITED STATES OF AMERICA