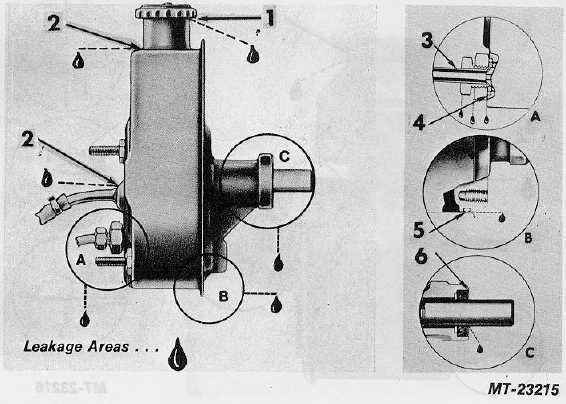 TM 5-4210-230-14&P-1
TRUCK SERVICE MANUAL
STEERING
CONDITION
POSSIBLE CAUSE
CORRECTION
3.
Extreme wear of cam ring and vanes.
3.
Replace parts.  Flush system.
4.
Scored pressure plate, thrust plate or rotor.
4.
Replace parts.  (If rotor replace with rotating
group kit.).   Flush system.
5.
Vanes not installed properly.
5.
Install properly.
6.
Vanes sticking in rotor slots.
6.
Free-up by removing burrs, varnish or dirt.
7.
Cracked or broken thrust or pressure plate.
7.
Replace part.
EXTERNAL LEAKAGE DIAGNOSIS
The  following  diagrams  have  been  prepared  to  show  the  potential  areas  of  leakage.    If  leakage  occurs  in  the  areas  shown,
perform the operation described.  Refer to the appropriate chapter for the pump being serviced for detailed repair procedures.
EXTERNAL LEAKAGE 125 SERIES PUMP
Fig. 8   Suspected Leakage Areas
CTS-2296R  Chapter 1, Page 11
PRINTED IN UNITED STATES OF AMERICA