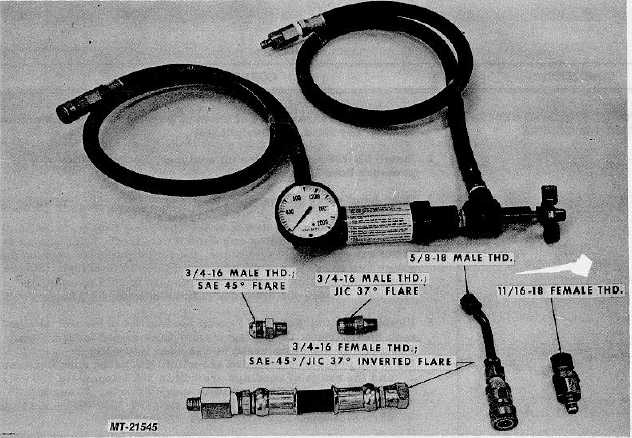 TM 5-4210-230-14&P-1
TRUCK SERVICE MANUAL
STEERING
Fig. 7   SE-2780 Power Steering Analyzer
CONDITION
Foaming milky power steering
POSSIBLE CAUSE
1.   Air in the fluid, and loss of
CORRECTION
1.
Check for leak and correct.
fluid, low fluid level and possi-
fluid due to internal pump
Bleed system.  Extremely
ble low pressure
leakage causing overflow.
cold temperatures will cause
system aeration should oil level be low.  If oil
level is correct and pump still foams,
remove pump from vehicle and separate
reservoir from housing.  Check welsh plug
and housing for cracks.  If plug is loose
or housing is cracked, replace housing.
Low pressure to steering pump
1.   Flow-control valve stuck or
1.
Remove burrs or dirt, reinoperative place.
2.   Pressure plate not flat
2.
Correct.
against cam ring
.
CTS-2296R  Chapter 1, Page 10
PRINTED IN UNITED STATES OF AMERICA