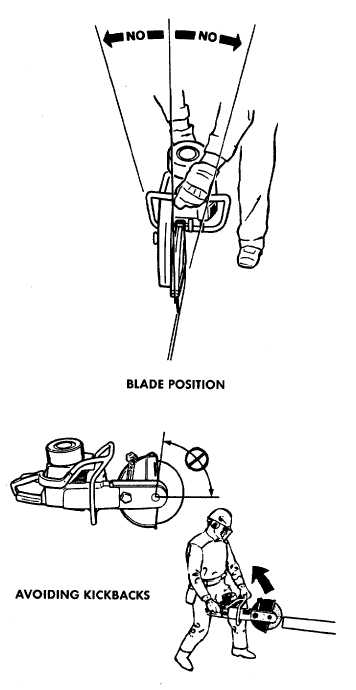 TM5-4210-229-14 & P
2-15.  OPERATION OF RESCUE SAW (Continued)
Do not bend saw to one side or wheel may bind or break
causing human damage or injury

.
(8)  Cut  with  blade  straight  up  and  down  (at  right  angle  to
work piece) .
Kickback   can   happen   extremely   fast   and   with   great
force.    Failure  to  comply  with  the  following  rules  can
result in a severe or even fatal injury.
If  the  segment  of  the  wheel  is  used  for  cutting,  the
wheel  may  start  climbing  in  the  cut  and  throw  the  saw
up and back towards the operator with great force.  Car-
bide  tipped  blades  can  kick  more  violently  than  other
blades because of their tooth design.
(9)  To avoid kickback.
(a)  Keep good balance and footing.
(b)  Use both hands and keep a firm grip with the thumb and
fingers encircling the handles.
(c)  Keep work piece at a comfortable
distance.
(d)  Run saw at full throttle.
(e)  Be careful when re-entering a cut.
(f)   Never cut above shoulder height.
(g)  Be alert to shifting of work piece or any-
thing that could cause the cut to close
and pinch the wheel.
e.  Stopping
(1)  Move stop control (3,  figure 2-7) to the stop po-
sition.
(2)  Wait until cutting blade stops then set saw on
ground.
2-65