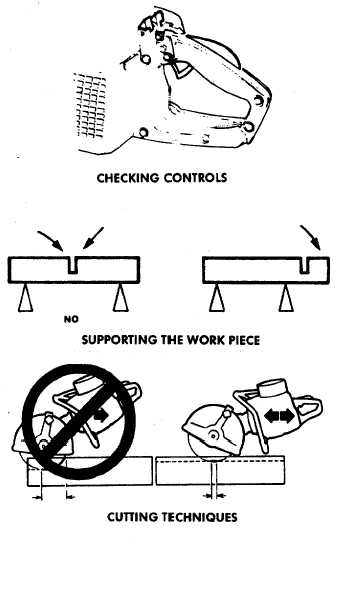 TM5-4210-229-14&P
2-15. OPERATION OF RESCUE SAW (Continued)
(3)
Check controls.
(a)
Check  that  when  you  release  the
throttle  control  (7,  figure  2-7)  en-
gine rpm drops and returns to idle
"by  itself".    Check  that  the  wheel
does not move when the engine is
idling.
(b)
Check that the stop control (3, fig-
ure 2-7) does stop the engine.
d.
Operating.
The  following  techniques  are  general  in
nature.  Check  instructions  for  each  type
of wheel for individual cutting character-
istics.   (Diamond   blades,   for   example,
need  less  feed  pressure  than  abrasive
wheels.)
(1)
Support   work   piece   so   that   you   know
what to expect while cutting so that it will
not bind.
(2)
Always cut at wide open throttle.
Absolutely never cut with the side of the
wheel;  it  almost  certainly  will  be  dam-
aged,  break,  and  is  likely  to  cause  se-
vere injury. Use cutting edge only.
(3)
Start   cut   gently,   do   not   bump   or   jam
wheel.
(4)
Use high wheel speed.
(5)
Move wheel slowly back and forth.
(6)
Use    small    portion    of    wheel's    cutting
edge.
(7)
Use  only  the  cutting  edge  of  the  wheel
for cutting.
2-64