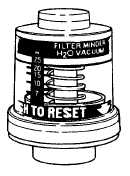 TM5-4210-229-14&P
Table 2-4.  Instrument Panel and Controls (Continued)
Twin Agent 4x4 Firefighting Truck
(Refer to Figure 2-4)
Key
Control or Indicator
Function
34
Engine    Stop    Control
Handle
The Engine Stop Control Handle shuts off fuel to the engine.
35
Ignition Switch
The Ignition Switch is used to start the vehicle.
Turn key clockwise to start engine, counterclockwise to stop engine.
36
Air Restriction Gauge
The  Air  Restriction  Gauge  indicates  how  much  engine  air  cleaner  filter  capacity  has
been used and how much filter capacity remains. The gauge measures maximum re-
striction of the filter element when the engine is operated at full load and locks at that
point.
The gauge is mounted on the air cleaner located in the engine compartment.
2-27