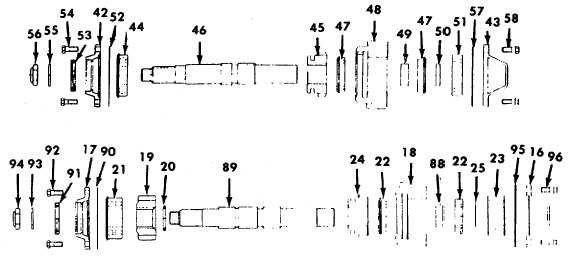 TM5-4210-229-14&P
6-18.
TRANSFER CASE REPAIR (Continued).
NOTE
Utilizing
guide
studs
will
simplify
the
installation of gaskets,  bearing carriers,  seal
carriers and caps.
Before  installation,    universal  joint  yokes  or
companion   flanges   should   be   coated   with
Lubriplate (Appendix D,  Item 34) on the seal
operating area.  They should be  torqued into
place with the locknuts torqued to the proper
specified torque before the cover is installed
on the case and before the shim thickness is
determined  for  both  the  input  shaft  and  the
rear output shaft.  The retaining nuts for the
universal joint yoke or companion flange can
be torqued or loosened most easily when all
components,  except  shift  forks  are  in  place.
At that time,  it is impossible to engage both
the   direct   drive   and   the   underdrive   clutch
gears  and  effectively  lock  all  shafts  against
rotation.
Seal  bolt  threads  with  sealant  (Appendix  D,
Item 47) or equal pliable setting sealant.  Bolt
threads that are not sealed will leak oil.
Replacement     seals     are     coated     (on     the
outside)  and  should  not  be  coated  prior  to
their  installation  into  the  carriers,    however,
they should be coated on the sealing lip with
Lubriplate   (Appendix   D,      Item   34).      Seal
installation  can  best  be  made  with  an  arbor
press.
a.
Clutch gear and bearing assembly

.
Apply  Lubriplate  (Appendix  D,    Item  34)  to  the
bearing   bores   of   each   of   the   three   clutching
gears.  Press the bearings into place by applying
a  force  to  the  outer  race.    Be  sure  to  put  the
applicable spacer rings(88 and 49) in place prior
to the installation of the second bearing in the 35
tooth clutch-ing gears (18 and 48).
b.
Front output shaft assembly.
(1)   Insert  the  plain  end  of  the  shaft  (46)  into  the
clutch gear assembly (47,  48,  and 49).  Install
spacer  ring  (50)  and  the  ring  bearing  (51)  onto
the  shaft  (46).    Slide  the  clutch  (45)  onto  the
splined end of the shaft (46).  Engage the teeth
of the clutch (45) with the teeth in the clutch gear
(48).  Put this assembly into the case through the
cover opening with the gear at the opposite side
of   the   housing   from   the   front   output   opening.
Put  the  threaded  end  of  the  shaft  into  the  front
output  opening  and  swing  the  gear  end  partially
into the intermediate shaft rear opening to allow
the  opposite  end  of  the  shaft  to  enter  the  front
output   opening.      Slide   shaft   through   the   front
output   opening   enough   to   allow   backing   the
bearing into the rear case bearing bore.
6-99