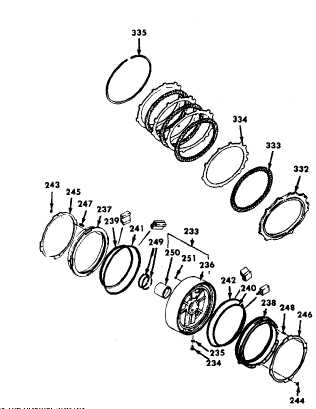 TM5-4210-229-14&P
6.15
TRANSMISSION REPAIR (Continued)
(b)
Beginning  with  an  internal-splined  clutch  plate,
alternately   install   three   internal-splined   (333)
and  three  external-tanged   (334)   clutch   plates
into the transmission housing.  Retain the plates
with snapring (335).
(c)
Remove  third  clutch  piston  (237)  from  center
support assembly (233).  Attach center support
lifter    into    the    recess    between    the    sealring
grooves on the sup-port hub.
(d)
Align  the  tapped  hole  in  the  support(233)  with
the    anchor    bolt    hole    in    the    transmission
housing.    Carefully  lower  the  support  into  the
housing,    seating  it  firmly  against  the  second
clutch  retain-ing  snapring.    Remove  the  lifting
bracket from the support.  Retain the support by
installing   the   original   3/8-16x2-1/4    inch    self
locking  anchor  bolt  and  washer.    Tighten  the
bolt finger tight.
(e)
Install   compressor   base   over   the   hub   of   the
center  support  (233).    Install  compressor  bar
and  center  bolt  (tool),    retaining  the  bar  to  the
transmission   with   two   3/9-16xl-1/4   inch   bolts.
Compress the support by applying a torque of 5
ft-lb to center bolt (tool).
(f)
Using center support snapring gauge, measure the
clearance between the top edge of the center support and
the top of the snapring groove in the housing.  Select the
proper snapring,  using the following table.
Measured
Snapring
Clearance
Thickness
Snapring
in.  (mm)
in.  (mm)
Color
0.150-0.154
0.148-0.150
White
(3.81)-(3.91)
(3.76)-(3.81)
0.154-0.157
0.152-0.154  
Yellow
(3.91)-(3.99)
(3.86)-(3.91)
0.157-0.160
0.155-0.157
Green
(3.99)-(4.06)
(3.94)-(3.99)
0.160-0.164
0.158-0.160
Red
(4.06)-(4.17)
(4.01)-(4.06)
6-84