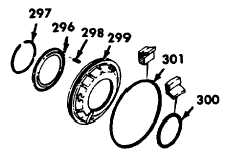 TM5-4210-229-14&P
6.15
TRANSMISSION REPAIR (Continued)
(c)
Lubricate
sealrings
(301
and
300)
with
transmission  fluid  (Appendix  D,    Item38),    and
install them into the grooves of piston (299).  The
lips  of  both  seals  must  be  toward  the  rear  of  the
piston.
NOTE
If   installation   is   difficult,      remove   the   piston   and
check     the     seal     and     cover     bore     before     again
attempting installation.
(d)
Carefully   install   the   piston   (299)   into   the   rear
cover (304).  Use extreme care to prevent the lip
of either seal folding back over itself.
(e)
Install  one  spring  (298)  into  each  of  twenty-six
pockets of the first clutch  piston (299).  Install the
spring  retainer(296)  cupped  side  first,    onto  the
springs (298).
(f)
Install  spring  compressor  base  and  compressor.
Compress    the    springs(298)  until  the  snapring
(297)
can
be
installed.
(g)
Install filter (303),  sealring (302) into cover (304).
Install  plugs.    Torque  plugs(306  and  305)  to  4-5
ft-lb  (5-7  N.m).Torque  plug  (310)  to  12-16  ft-lb
(16-22   N.m).      Torque   filter   plug   to   50-70ft-lb
(68-95 N.m).
(h)
Assemble  the  governor  (307)  as  out-lined  in  the
directions furnished with the governor service kit.
(i)
Check  the  governor  port  openings  as  outlined  in
the kit instructions.
6-81