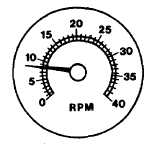 TM5-4210-229-14&P
Table 2-4.  Instrument Panel and Controls (Continued)
Twin Agent 4x4 Firefighting Truck
(Refer to Figure 2-4)
Key
Control or Indicator
Function
15
Tachometer
The  Tachometer  is  used  to  measure  engine  revolutions  per
minute in the hundredths (0 to 40 rpm).
16
Oil Pressure Gauge
The Oil Pressure Gauge indicates the pressure at which oil is
being  delivered  to  the  various  parts  of  the  engine  requiring
lubrication.
The Voltmeter indicates the charging system voltage.
17
Voltmeter
18
Wiper/Washer Control Knob
The   Wiper/Washer   Control   Knob   activates   the   windshield
wipers to remove debris and rain from the windshield.
To activate the wipers, pull the knob outward or turn the knob
clockwise.
To  activate  the  washers  ,  press  the  knob  to  spray  solutions
on the windshield.  Turn the wipers to clean the windshield.
2-20