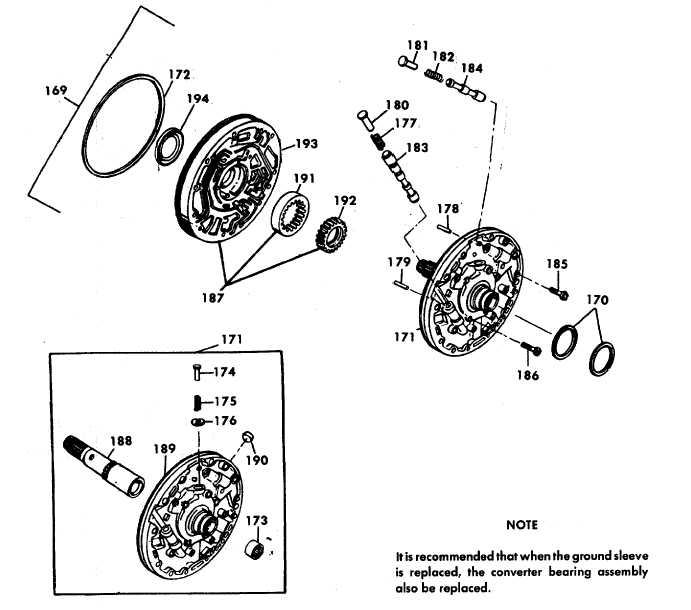 TM5-4210-229-14&P
6-15.
TRANSMISSION REPAIR (Continued).
NOTE
If  the  ground  sleeve  (188)  was  remove,  must  be
able  to  measure  and  check  runout.    If  unable  to
check  runout  of  ground  sleeve,  replace  with  new
assembly.
(d)   Support    the    front    support    in    a    press    (8    ton
minimum)  with  the  pump  face  of  the  front  support
facing   up.      Place   ground   sleeve   (188)   in   center
bore, align sleeve lube hole with mark on support.
(e)   Press the sleeve (188) into the front support.  The
sleeve  is  properly  positioned  with  a  dimension  of
6.005-5.995   in.      (152.53-152.27   mm)   measured
from   thrust   bearing   surface   to   the   end   of   the
sleeve.
(f)
Measure the runout of the sleeve at an area below
the  splines,  not  to  exceed  0.006  inch  (0.152  mm)
maximum.
(g)   Machine  the  bearing  bore  of  sleeve  to  a  diameter
of   1.6255-1.6245   inch   (41.29-41.26   mm)   and   a
depth    of    2.010    inch    (51.0    mm).        Clean    the
assembly of any metal chips and dirt.
6-64