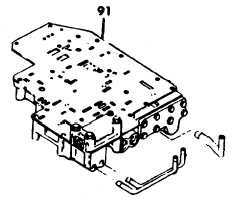 TM5-4210-229-14&P
6-15.
TRANSMISSION REPAIR (Continued).
c)
Install  adjusting  ring  (85),flat  side  first,  over
valve    top  (87).  Align  the  adjusting  ring  as  it
was previous to disassembly.
(d)
Depress ring (85) against spring pressure, and
install pin (86) through the holes in valve body
(90),   valve   stop   (87)   and      into   the   slot   of
adjusting ring (85).  Be sure the adjusting ring
is    aligned    with    the    pin    as    it    was    before
removal.    Adjusting  ring  tool  may  be  used  to
properly locate the adjusting ring.
c.
Control value repair

.
(1) Disassembly.
The valve body assembly (91) contains a number
of springs, some of which are similar and can be
mistakenly    interchanged.        If    springs    are    not
reinstalled   in   the   same   locations   from   which
removed,  the  calibration  of  valve  body  functions
will be lost.  For these reasons, it is recommended
that  each  spring,  at  removal,  be  tagged  with  its
item number and utilize valve body parts tray set.
6-57