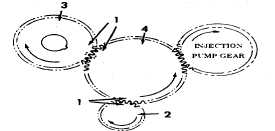 TM5-4210-229-14&P
6-9.  CAMSHAFT AND GEAR MAINTENANCE
This task cover:     a.  Removal
b.  Inspection
c.  Installation
INITIAL SET-UP
Tools
Dial Indicator
Camshaft Bearing Service Set (SE-2893)
General Mechanics Tool Kit
Micrometer
Press
Equipment
Condition
Para.
Condition Description
6-6
Cylinder Head and Valves Removed
6-8
Front Cover Removed
REMOVAL
NOTE
Prior to removal, cam lobe lift can be
inspected with camshaft in engine by
using a dial indicator.  Record the lift
readings of each lobe.  Cam lobe lift shall
be 0.2935 inch (7.455 mm).  If wear is 0.020
inch (.51 mm) or greater, replace the
camshaft.
a.  Crank engine until timing marks (1) on crank-
shaft gear (2), camshaft gear (3), and idler gear
(4) are in line.
NOTE
Before removing the camshaft gear (3),
check the camshaft end clearance 0.005 to
0.013 in (0.13 to 0.33 mm).  If specification is
not met, new parts are required.
b.  Rotate camshaft gear (3), and by reaching
through the holes in the gear, remove two cap-
screws securing camshaft thrust plate to crank-
case.
c.  Remove camshaft.  (Support camshaft along its
length, as it is being removed, to prevent cam
lobes from damaging bushings).
Materials/Parts
Cleaning Solvent (Appendix D, Item 54)
Camshaft (1802339C92)
Camshaft Gear (675600C1)
Bushings (680117C1)
Thermomelt Crayon (Appendix D, Item 54a)
INSPECTION
Cleaning solvent, (Appendix D, Item 54), is
both toxic and flammable.  Keep off skin.  Use
only in a well ventilated area and avoid pro-
longed breathing of vapors.  Keep away from
open flames.
Compressed air used for cleaning or drying can
create airborne particles that may enter the
eyes.  Pressure shall not exceed 30 psi
(206 kPa).  Wearing of goggles is required to
avoid injury to personnel.
CAUTION
Do not damage the journals and lobes of the
camshaft, or the teeth of the gear.
a.  Clean all parts in solvent (Appendix D, Item 54)
and dry with compressed air.
b.  Visually inspect camshaft lobes for scuffs, scores,
or cracks.
c.  Inspect  the  journals  for  wear.  Using  a
micrometer, measure the camshaft journal to
insure specifications of 2.2814 to 2.2825 in
(57.948 to 57.976 mm) are met.  If the journals
are worn beyond these limits, replace the cam-
shaft.
d.  Camshaft lobe wear check.
(1) Compare lifting areas of the cam lobes with
a new camshaft.  If excessive wear is visible,
replace the camshaft
6-18