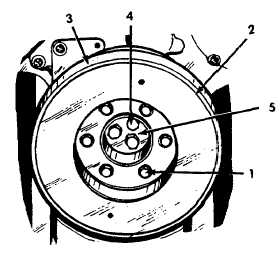 TM5-4210-229-14&P
6-7.  VIBRATION DAMPER MAINTENANCE
This task cover:     a.  Removal
b.  Inspection
c.  Installation
INITIAL SET-UP
Tools
Materials/Parts
General Mechanics Toot Kit
Vibration Damper (677781C91)
Crankshaft Pulley Puller (PLT-514)
Solvent (Appendix D, Item 54)
Heat -resistant Gloves
Thermomelt Crayon (Appendix D, Item 54a)
Micrometer
General
Safety
Instructions
Engine OFF
Transmission in (N) neutral.
Parking brake set.
Batteries disconnected.
Equipment
Condition
Para.  Condition Description
Alternator Removed
4-167 Compressor Removed
4-183 Power Steering Pump Removed.
REMOVAL
a.  Remove capscrews (1) which secure the vibra-
tion damper (2) to the crankshaft pulley (3) and
remove the damper (2).
b.  Remove capscrews (4) with the retainer plate
(5) securing the crankshaft pulley to the crank-
shaft.
c.  Remove crankshaft pulley (3) from the crank-
shaft using crankshaft pulley puller modified to
the bolt pattern of the pulley.
INSPECTION
Cleaning   solvent,   (Appendix   D,   Item   54)   is
both toxic and flammable.  Keep off skin.  Use
only    in    a    well    ventilated    area    and    avoid
prolonged
breathing of vapors.  Keep away from open
flames.
a.  Clean vibration damper with cleaning solvent
(Appendix D, Item 54).
Compressed air used for cleaning or drying can
create airborne particles that may enter the
eyes.  Pressure shall not exceed 30 psi
(206 kPa).  Wearing of goggles is required to
avoid injury to personnel.
b.  Blow dry vibration damper with compressed air.
6-15