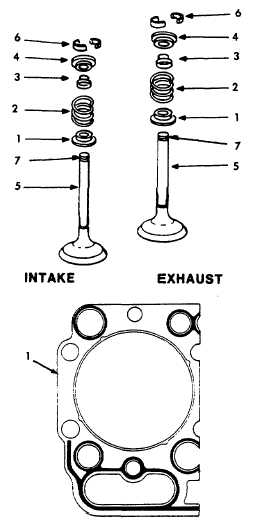 TM 5-4210-229-14&P
6-6.
CYLINDER HEAD AND VALVES MAINTENANCE (Continued)
l.
Return

each valve (and its parts) to the position
from which it was removed.
m.
Place  valve  seat  (1),  spring  (2),  oil  shield  (3),
and rotator (4) onto stem of valve (5).
n.
With  a  valve  spring  compressor,  compress  the
spring (2) far enough to install the valve locks (6)
into the keeper groove (7).
Cleaning   solvent   (Appendix   D,   Item   54)   is
both   toxic   and   flammable.      Keep   off   skin.
Use  only  in  a  well-ventilated  area  and  avoid
prolonged  breathing  of  vapors.    Keep  away
from open flames.
Compressed  air  used  for  cleaning  or  drying
can  create  airborne  particles  that  may  enter
the  eyes.    Pressure  shall  not  exceed  30  psi
(206 kPa).  Wearing of goggles is required to
avoid injury to personnel.
o.
Clean and dry cylinder head gasket surfaces with
solvent and compressed air.
p.
Blow
out
cylinder
head
bolt
holes
with
compressed  air  to  prevent  hydrostatic  lock  and
possible block cracking when bolts are torqued.
Do  not  use  gasket  cement.    Heat  transfer
may be adversely affected.
q.
Install new cylinder head gasket (1).
r.
Install   rocker   arm,   shaft,   and   push   rods   on
cylinder bead (paragraph 6-5).
When lifting an object, make sure the hoist and
sling  are  fastened  securely.    Be  sure  the  item
being lifted does not exceed the capacity of the
lifting device.
s.
Use a hoist and sling to place and align head on
crankcase dowels.  Maintain gasket alignment.
t.
Using an accurate torque wrench, torque cylinder
head bolts in three stages.
6-12