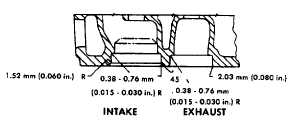 TM 5-4210-229-14&P
6-6.
CYLINDER HEAD AND VALVES MAINTENANCE (Continued).
j.
Valve seat replacement.
(1)   Remove  valve  seats  with  a  slide  hammer  and
expanding    screw    with    pre-cup    puller.        Two
pre-cup  pullers  are  available  for  service;  one  for
intake, one for exhaust valves.
Cleaning solvent (Appendix D, Item 54) is both
toxic and flammable.  Keep off skin.  Use only
in  a  well-ventilated  area  and  avoid  prolonged
breathing   of   vapors.      Keep   away   from   open
flames.
(2)   Clean  counter  bore  (in  head)  to  assure  pro-per
valve  seat  mating  and  good  heat  transfer.    Use
cleaning solvent (Appendix D, Item54) and brass
wire brush (Appendix D, Item7).
(3)   If right fit is not assured between mating surfaces
of   valve   seat   and   cylinder   head   counterbore,
install oversize valve seat inserts as follows:
(a)   Take    a    light    cut    from    bottom    in    insert
counterbore  in  cylinder  head  to  dimensions
shown below:
OVERSIZE              INTAKE
EXHAUST
INSERT
.002 in
1.998-1.999 in.
1.626-1.627 in.
(50.75-50.77 mm)
(41.30-41.33 mm)
.015 in.
2.011-2.012 in.
1.639-1.640 in.
(51.08-51.10 mm)
(41.63-41.66 mm)
(b)   Maintain
radii
shown
when
enlarging
counterbore for oversize inserts.
NOTE
Chilling   will   prevent   metal   scraping   at
counterbore, ensuring maximum contact
of
mating
surfaces.
(4)
Valve seat inserts installation.
(a)
Chill valve set inserts and driver tool in dry
ice  or  liquid  freon  for  one  half  hour  before
installing.
(b)
Align insert to avoid cocking.
(c)
Press   insert   into   cylinder   head   using   an
arbor   press   and   insert   driver.      Exert   an
even  pressure  of  500  ft-lb  (2225  N.m)  for
five seconds to assure proper seating.
(d)
Insert  should  be  recessed  into  head  when
properly seated.
k.
Coat valve stems with clean engine oil (Appendix D,
Item 36) prior to inserting them from the bottom of the
head.
6- 11