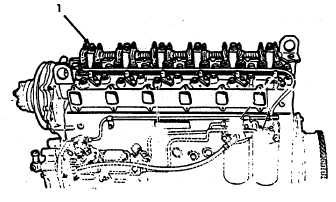 TM 5-4210-229-14&P
6-5.   ROCKER ARM, SHAFT AND PUSH ROD MAINTENANCE (Continued).
INSTALLATION
a.
Install pushrods (8).
b.
If necessary, press replacement cap plugs into
each end of the shaft (3).
c.
With side of shaft (3) marked top up and bolt
grooves toward assembler, slide one spring (7) to
the center of the shaft.
d.
Slide rocker arm (6) into the shaft on each side of
the spring, with the adjusting screw towards the
assembler.
e.
Slide a support bracket (5) onto the shaft from
each end of the shaft to the rocker arm.  The
tapped hole in each bracket must be to the top
and the through bolt holes must line up with the
notched side of the shaft.
f.
Slide rocker arm (4) and all other remaining parts
on the shaft, observing the order shown.  Install
the snaprings (2) into the grooves at each end of
the shaft.
g.
lnstall rocker lever assembly to cylinder head and
secure with bolts (1).
h.
Install valve cover (paragraph 4-90).
i.
Install injection nozzles (paragraph 4-77).
j.
Install engine (paragraph 5-11).
6-4