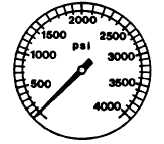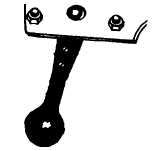 TM5-4210-229-14&P
Table 2-2.  Remote Turret Controls (Continued).
Twin Agent 4x4 Firefighting Truck
(Refer to Figure 2-2)
Key
Control or Indicator
Function
9
Remote Turret Pressure Activator Switch
The Remote Turret Pressure Activator Switch activates
the master cylinder valve which pressurizes the
system for firefighting operations.
10
AFFF/DC Selector Switch
The AFFF/DC Selector Switch selects which firefighting
agent will be used in the applicable firefighting operation.
11
Cylinder Pressure Gauge
The Cylinder Pressure Gauge indicates the pressure
in the nitrogen cylinders.
12
AFFF Turret Nozzle Shaper Control
The AFFF Turret Nozzle Shaper Control operates
the deflectors on the AFFF nozzle.  Placing the control
fully forward emits a dispersed pattern, while
placing the control all the way back emits a straight
stream.
13
AFFF Manual Override
The AFFF Manual Override is used when the AFFF
mode of the turret is used and the nitrogen cylinder
pressure is depleted.
To close the operating valve, attach handle (8) and
manually close the valve.
2-12