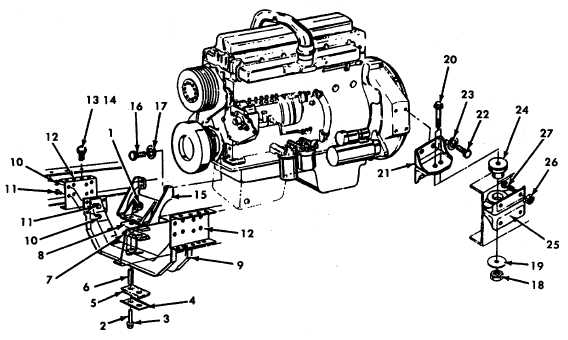 TM5-4210-229-14&P
5-14.
ENGINE MOUNTING REPLACEMENT.
This task covers:
a.  Removal
b.  Installation
INITIAL SET-UP
Tools
General Mechanics Tool Kit
Jack
Engine OFF.
General Safety Instructions
Transmission in (N) neutral.
Parking brake and micro-brakelock set.
Batteries disconnected.
REMOVAL
a.
Front engine mounting assembly.
When    raising    or    supporting    the    engine    for    any
reason, do not use a jack under the oil pan, any sheet
metal    or    crankshaft    pulley.        Due    to    the    small
clearance   between   the   oil   pan   and   the   oil   pump
screen, jacking against the oil pan may cause it to be
bent    against    the    pump    screen,    resulting    in    a
damaged oil pickup unit.
(1)
Support the engine with a suitable jack being
careful not to load the engine mounting.
(2)
Remove two flanged locknuts (1).
(3)
Remove    two    engine    mounting    bolts    (2),
washers    (3),    engine    insulator    retainer    (4),
engine insulator (5) and spacers (6).
(4)
Raise  engine  only  enough  to  permit  removal
of the engine mounting.
(5)
Remove insulator (7) and retainer (8).
(6) Remove front engine mounting crossmember (9)
by  removing  eight  flanged  locknuts  (10)  and
bolts (11).
5-36