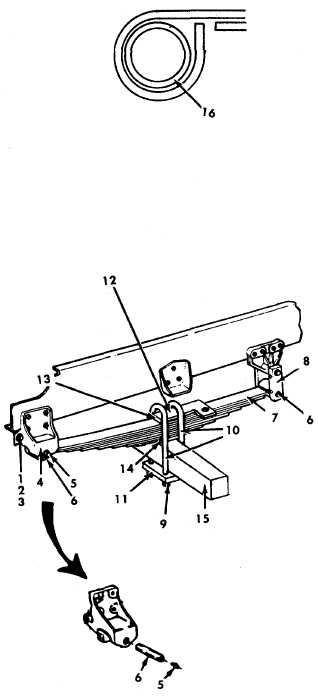 TM5-4210-229-14&P
4-190.  FRONT SUSPENSION LEAF SPRING AND BUSHING REPLACEMENT (Continued).
h.
Remove two spring eye bushings (16) by pounding
through spring eye using a soft drift.
INSTALLATION
a.
Install two new bushings (16) in spring eyes by
pounding or pressing into spring eye.
b.
Position two shims (14) on axle (15) and lower new
spring (7) into position.
c.
Position shock absorber bracket (13) and U-bolt s
eat (12) on spring (7) and install two U-bolts (10),
U-bolt plate (11) and U-bolt nuts (9).   Torque nuts
(9) to 145-165 ft-lb (197-224 N.m).
d.
Insert spring pin (6) through hangers (8 and 4) and
bushings (16) until groove in spring pin (6) aligns
with hole for bolt (3) in hanger (4). (Install with
pointed end of pin toward center of truck.)
e.
Install bolt (3), lockwasher (2) and nut (1) in hanger
(4). Torque nuts to 45-50 ft-lb (61-67.8 N.m).
f.
Install grease fitting (5) in pin end (6).
g.
Repeat steps d and e to secure spring (7) to
shackle (8).
h.
Lubricate bushings (16) by applying grease
(Appendix D, Item 20) to grease fitting (5) until
fresh grease is visible at each end of bushing.
i.
Remove floor stands and lower vehicle.
j.
Install front shock absorbers (paragraph 4-185).
4-207