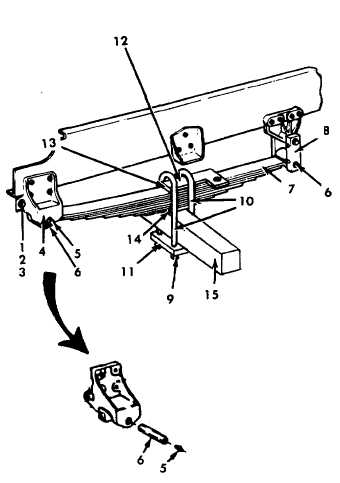 TM5-4210-229-14&P
4-190.  FRONT SUSPENSION LEAF SPRING AND BUSHING REPLACEMENT.
This task covers:
a.  Removal
b.  Installation
INITIAL SETUP
Topic
General Mechanics Tool Kit
Drift
Jack
Floor Stands
Materials/Parts
Front Leaf Spring (572359C91)
(Grease (Appendix D, Item 20)
Equipment
Condition
Para. Condition Description
4-185 Front Shock Absorbers Removed
General
Safety
Instructions
Engine OFF.
Transmission in (N) neutral.
Parking brake set.
REMOVAL
A jack should never be used alone to support vehicle
while  under-chassis  service  is  being  performed.  The
jack   may   lower   and   serious   personal   injury   could
result. Always support vehicle with floor stands.
a.
Raise the vehicle sufficiently to remove weight on
front   spring.   Support   the   spring   with   a   suitable
lifting device. Support the vehicle with floor stands.
b.
Remove  nut  (1),  lockwasher  (2)  and  retaining  bolt
(3) from front spring hanger (4).
c.
Remove grease fittings (5) in spring pin end (6).
d.
Pound  spring  pin  (6)  out  through  hanger  (4)  and
eye of spring (7) using a drift.
e.
Repeat steps b, c, and d to remove spring (7) from
shackle (8) at rear of spring.
f.
Remove   four   U-bolt   nuts   (9),   U-bolts   (10),   and
U-bolt  plate  (11).  Remove  front  spring  U-bolt  seat
(12) and shock absorber bracket (13).
g.
Lift spring (7) along with two shims (14) from axle
(15).
4-206