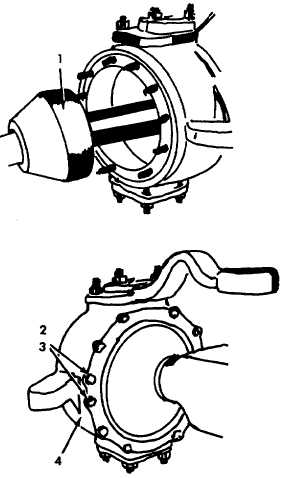 TM5-4210-229-14&P
4-189.  STEERING KNUCKLE AND ARM REPLACEMENT.
This task covers:
a.  Removal
b.  Installation
INITIAL SETUP
Tools
General Mechanics Tool Kit
Materials/Parts
Steering Knuckle Curbside (503090C1)
Steering Knuckle Streetside (503089C1)
Steering Arm Curbside (504868C1)
Steering Arm Streetside (503096C1)
Equipment
Condition
Para.
Condition Description
4-162
Tire Rim Association Removed
4-169
Service Brakes Removed
4-186
Hub/Drum Removed
4-187
Wheel Bearings Removed
4-188
Spindle Removed
General
Safety
Instructions
Engine OFF.
Transmission in (N) neutral.
Parking brake set.
REMOVAL
Care should be taken not to damage axle shaft oil seal
in end of axle housing when removing axle shaft.
a.
Remove axle shaft and universal joint assembly (I)
from axle housing.
b.
Remove retaining ring mounting bolts (2) and
lockwashers (3) from back side of trunnion housing
(4).
4-203