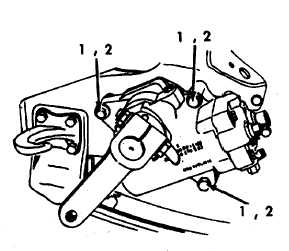 TM5-4210-229-14&P
4-181.  POWER STEERING GEAR REPLACEMENT.
This task covers:
a.  Removal
b.  Installation
INITIAL SETUP
Tools
General Mechanics Tool Kit
Materials/Parts
Power Steering Gear (491010C92)
Equipment
Condition
Para. Condition Description
4-178 Drag Link Removed
4-119 Steering Shaft Disconnected
General
Safety
Instructions
Engine OFF.
Transmission in (N) neutral.
Parking brake set.
Battery selector switch OFF.
REMOVAL
a.
Thoroughly clean off all outside dirt, especially
from around fittings and line connections, before
you remove the gear.
b.
Drain the steering gear assembly by removing
bottom drain plug on gear.
c.
Remove all fluid lines.
d.
Plug all port holes and fluid lines.
CAUTION
This steering gear weighs approximately 80 lb (36 kg)
dry. Exercise caution when you remove, lift, or carry it.
Do   not   pound   the   universal   joint   or   input   shaft
coupling on or off the input shaft. Internal damage to
the steering gear can result.
e.
Remove the steering gear from the vehicle by
removing three locknuts (1) and bolts (2).
f.
Clean and dry the gear before repair.
INSTALLATION
a.
Position steering gear on the vehicle and install
using three bolts (2) and locknuts (1).
b.
Torque nuts to 135 ft-lb (183 N.m).
c.
Install drain plug.
d.
Unplug port holes and fluid lines.
e.
Connect all fluid lines.
f.
Connect steering shaft (paragraph 4-119).
g.
Connect drag link (paragraph 4-178).
h.
Fill steering fluid reservoir (paragraph 4-180).
4-196