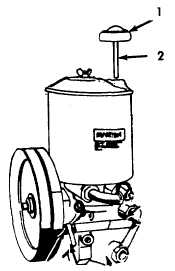 TM5-4210-229-14&P
Section XXV.  MAINTENANCE OF POWER STEERING SYSTEM
Para
Para.
General ..................................................... 4-179
Power Steering Pump Replacement ......... 4-183
Pitman Shaft Seal Replacement  .............. 4-182
Power Steering System Service  ............... 4-180
Power Steering Gear Replacement ........... 4-181
4-179.  GENERAL
This   section   contains   information   on   the   maintenance   of   the   power   steering   system   that   are   maintainable   at   the
Organizational level.
4-180.  POWER STEERING SYSTEM SERVICE.
This task covers:  Service
INITIAL SET-UP
Tools
Materials/Parts
General Mechanics Tool Kit
Power Steering Fluid (Appendix D, Item 19)
SERVICE
a.
Run engine until power steering fluid reaches
normal operating temperature, approximately 170°
F (80°  C), then shut engine off. Remove reservoir
filler cap (1) and check oil level on dipstick (2).
b.
If oil level is low, add power steering fluid
(Appendix D, Item 19) to proper level and
replace
filler cap (1).
c.
When checking fluid level after the steering system
has been serviced, air must be bled from the
system.
(1)  With  wheels  turned  all  the  way  to  the  left  add
power  steering  fluid  (Appendix  D,  Item  19)  to
level indicated on dipstick (2).
(2) Start engine, and running at idle, recheck fluid
level. Add fluid if necessary.
(3)  Bleed  system  by  turning  wheels  from  side  to
side  without  hitting  stops.  Maintain  fluid  level
so it is just visible in the reservoir.  Fluid with
air    in    it    will    have    a    light    tan    or    milky
appearance.  This  air  must  be  eliminated  from
fluid   before   normal   steering   action   can   be
obtained.
(4) Return wheels to center position and continue to run
engine  for  two  or  three  minutes,  then  shut  engine
off.
(5)  Road-test  vehicle  to  make  sure  steering  functions
normally and is free from noise.
(6) Recheck fluid level as described in steps a and b.
4-195