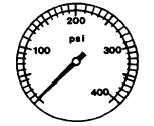 TM5-4210-229-14&P
Table 2-1.  Twin Agent System Controls and Indicators
Twin Agent 4x4 Firefighting Truck
(Refer to Figure 2-1)
Key
Control or Indicator
Function
1
Cylinder Pressure Gauge
The Cylinder Pressure Gauge indicates the pressure
in the nitrogen cylinders.
2
Twin Agent Pressure Activator Switch
The twin Agent Pressure Activator Switch activates
the master control valve which pressurizes the system
for firefighting operations.
3
Manual Twin Agent Pressure
The Manual Twin Agent Pressure Activator Handle
Activator Handle
manually opens the master control valve to
pressurize the system for firefighting operations.
4
Regulator Pressure Gauge
The Regulator Pressure Gauge indicates the regulated
nitrogen gas pressure.  The gauge reads zero
until the unit is pressurized.
2-3