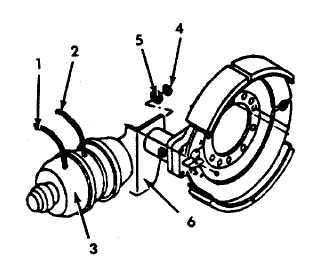 TM5-4210-229-14&P
4-166.  MAXI-CHAMBER REPLACEMENT.
This task covers:  a.  Removal
b.  Installation
INITIAL SET-UP
Tools
General Mechanics Tool Kit
Materials/Parts
Maxi-Chamber Streetside (596003C91)
Maxi-Chamber Curbside (596004C91)
Equipment
Condition
Para.  Condition Description
4-165 Slack Adjuster Disconnected
4-173 System Bled
General
Safety
Instructions
Engine OFF.
Transmission in (N) neutral.
Parking brake set.
Battery selector switch OFF.
Tires blocked
REMOVAL
a.   Tag and remove hoses (1) and (2) from maxi-brake
chamber (3).
b.      Remove  two  nuts  (4)  and  washers  (5)  securing
maxi-brake chamber (3) to axle bracket (6).
c.   Remove maxi-brake chamber.
INSTALLATION
a.   Position maxi-brake chamber (3) on axle bracket (6)
and secure with two washers (5) and nuts (4).
b.  Remove tags and install hoses (1) and (2).
c.
Reconnect slack adjuster (paragraph 4-165).
d.
Recharge the system (paragraph 4-173).
e.
Remove tire blocks.
4-181