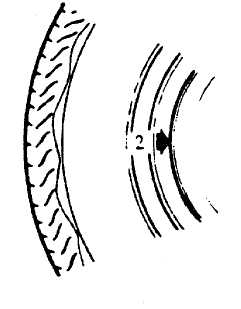 TM5-4210-229-14&P
4-163.  TIRE REPLACEMENT (Continued).
NOTE
Recommended     vehicle     tire     mounting     and
inflation   procedures   are   especially   important
with    radial    tires.        Failure    to    follow    these
procedures can cause bead deformation due to
incorrect bead seating.  Bead deformation may
lead  to  chafing,   lower  sidewall  and  bead  area
packing,      eccentric   wear,      ride   vibratin   and
non-retreadable castings.
d.    Install  valve  core  and  inflate  to  proper  pressure.
Check  the  locating  rings  (2)  of  the  tire  to  be  sure
they show around the rim flanges on both sides.
e.  Check the spacing between the rim flange and one
of  the  three  lower  sidewall  rim  line  rings  while  the
tire
is
laying
flat
to
verify
bead
seating.
Measurements   must   be   taken   each   90   degrees
around the circumference of the rim flange.
NOTE
If the spacing is uneven around the bead from
side  to  side,    repeat  steps  a  through  c,    then
recheck.
Before re-installing the rims,  remove any build
up  of  corrosion  on  the  rim  mounting  surface
and   disc   mounting   surface   by   scraping   and
wire   brushing.      Installing   rims   without   good
metal-to-metal
contact
at
the
mounting
surfaces  can  cause  lug  nuts  to  loosen.    This
can lead to a rim coming off while the vehicle is
moving,  causing loss of control.
f.      Place  the  tire  rim  assembly  in  position  on  the  hub
and   install   the   lug   nuts   snugly   in   a    criss-cross
pattern to minimize runout.
NOTE
Lateral   runout   should   not   exceed   0.125   inch
(3.18  mm)  on  the  front  wheels  and  0.187  inch
(4.76 mm) on the rear wheels.
g.  Turn the wheel until one nut is at the top of the bolt
circle,  then tighten evenly and alternately according
to a torque of 190-210 ft-lb (258-285 N.m).
h.  Inflate tire(s) to 80 psi (551.6 kPa).
i.  Lower vehicle.
4-179