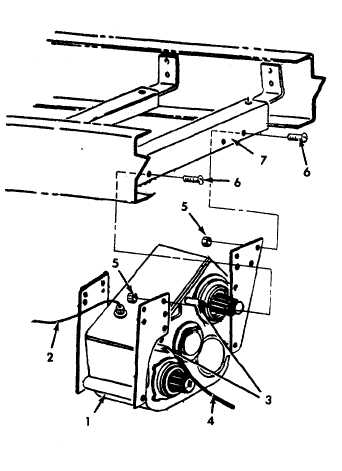 TM5-4210-229-14&P
4-159.  TRANSFER CASE ASSEMBLY MAINTENANCE (Continued).
INSTALLATION
a.  Place transfer case on transmission jack and position
jack and transfer case under the vehicle.
b.  Raise transmission jack and position transfer case.
c.  Install four bolts (6) and locknuts (5) in both mounting
angles (7).
d.  Connect mechanical shift linkages to shift shafts (3).
e.   Connect wire (2) to terminal.
f.    Replace  drain  plug  (1).    Remove  fill  plug  and  fill
transfer case housing with oil (Appendix D, Item 36)
to the correct level and install fill plug.
g.   Connect speedometer cable (4).
h.  Install propellor shafts (paragraph 4-152 and 4-154).
i.    Road  test  the  vehicle  by  driving  slowly  with  no  load
for  the  first  few  moments,    then  test  at  a  higher
speed listening for any problems.
j.    Check  transfer  case  for  leaks  around  gaskets  and
seals.
k.  Connect batteries.
SERVICE
a.    Remove  oil  drain  plug  (1)  and  drain  lubricant  from
transfer case.
b.  Install drain plug (1) and remove oil fill plug (8).
c.  Fill transfer case with oil (Appendix D,  Item 36) until
level with oil fill plug opening.
d.  Replace oil fill plug (8).
4-173