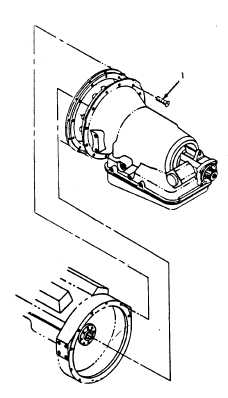 TM5-4210-229-14&P
4-156.  TRANSMISSION ASSEMBLY MAINTENANCE (Continued).
f.   Remove mounting bolts (1) and clear transmission
of its mountings.
g.
Remove transmission.
h.
Clean the exterior of the transmission.
INSTALLATION
When  lifting  an  object,    make  sure  the  hoist
and  sling  are  fastened  securely.    Be  sure  the
item being lifted does not exceed the capacity
of the lifting device.
a.      Position  transmission  and  remove  retaining  strap
from torque converter.
b.
Connect transmission to engine and frame.
c.
Connect
linkages,
controls,
cooler
lines,
modulator actuator cable,  temperature connection,
input and output couplings,  oil filler tube,  parking
brake linkage,  etc.
d.  Fill transmission with oil.  See service for oil check.
SERVICE
a.   When the transmission oil temperature is 60-120°F
(16-50°  C),  a cold oil level check should be made.
This  check  is  required  to  ensure  that  there  is  a
sufficient   quantity   of   oil   in   the   transmission   to
operate
the
vehicle
until
normal
operating
temperature   is   reached.      A   hot   check   must   be
made  when  the  transmission  oil  reaches  normal
operating   temperature   (160-200°
F;   71-93°    C).
This check is required to ensure that the oil level is
at the proper operating level.
b.      Park  the  vehicle  on  a  level  surface.    Apply  the
parking brake and operate the engine at 1000-1500
rpm for approximately one minute to purge air from
the   system.      To   fill   clutch   cavities   and   circuits,
shift  the  transmission  into  drive  (D)  and  then  to
reverse  (R).    Allow  the  engine  to  idle  and  shift  to
neutral (N).
4-169