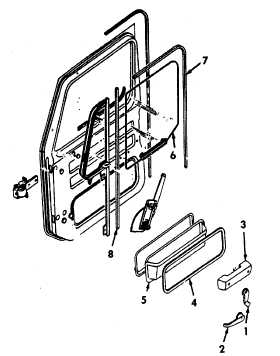 TM5-4210-299-14&P
4-145.  DOOR GLASS REPLACEMENT.
This task covers:
a.
Removal
b.
Installation
INITIAL SET-UP
Tools
General
Safety
Instructions
General Mechanics Tool Kit
CAUTION:  Always wear heavy gloves when
handling glass to minimize the risk of injury.
Materials/Parts
Door Glass (46477)
Equipment
Condition
Para. Condition Description
4-173 Door Vent, Window Run Channel Removed
4-176  Door Trim Panel Removed
REMOVAL
a.  Remove window regulator handle (1) and door remote
control handle (2) by removing socket head screws
from handles.
b.  Remove two screws and detach arm rest (3).
c.  Remove rubber insert (4) from around door access
cover (5) using blunt nose screwdriver or seal tool.
Lift out cover (5) and remove seal (4) from access
opening.
d.  Lower window glass (6) to bottom of its channel.
e.  Remove glass regulator (paragraph 4-142).
f.  Remove button plug from side of door for access to
rear glass run channel (7) upper retaining bolt. Remove
bolt.
g.  Remove two retaining bolts from lower end of glass
rear run channel (7). Remove channel and channel
seal from glass.
h.  Remove glass (6) from front run channel (8).
i.  Pull glass (6) out bottom of access opening.
INSTALLATION
a.  Insert window glass (6) through access open-
ing.
b.  Enter glass (6) into front run channel (8).
4-156