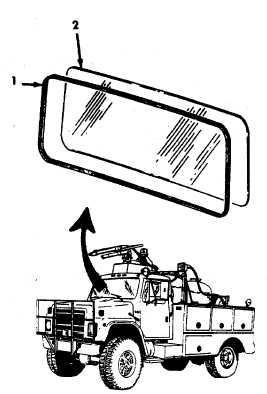 TM5-4210-229-14&P
4-139.  WINDSHIELD REPLACEMENT (Continued).
REMOVAL
a.  Pry integral or detached insert from weather- seal
(1) with a thin blade screwdriver or sealtool around
entire glass.
b.  Working with one man outside cab and an
assistant inside apply light pressure on windshield
(2) from inside of cab to push glass from seal.
WARNING
Be   careful   during   this   operation   since   heavy
pressure   at   any   one   point   can   lead   to   glass
breakage.
c.  Lift glass (2) from opening and peel Weatherseal (1)
from fence (weld flange).
INSTALLATION
a.  Coat Weatherseal (1) with a soapy solution or rubber
lubricant for ease of assembly.
b.  Install Weatherseal (1) carefully around edge of
windshield opening flange. Position splice joint of seal
ends at centerline of cab and on lower flange.
c.  Working form outside the cab, place windshield (2) in
channel of Weatherseal (1) starting at lower edge of
opening.
d.  Install wiper arms (paragraph 4-103).
4-150