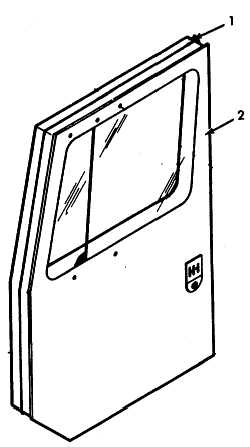 TM5-4210-299-14&P
4-136.  DOOR WEATHERSTRIP REPLACEMENT.
This task covers:
a.
Removal
b.
Installation
INITIAL SET-UP
Tools
General
Safety
Instructions
General Mechanics Tool Kit
Engine OFF.
Transmission in (N) neutral
Materials/Parts
Parking brake set.
Weatherstrip (444058C1)
REMOVAL
Pry up old Weatherstrip (1) at fastener locations
and remove Weatherstrip from cab door (2).
INSTALLATION
a.  Obtain new Weatherstrip.
b.  Be sure all old fasteners have been removed and
door flange is free of dirt.
c.  Place new Weatherstrip (1) into place on door (2)
and align fasteners over mounting holes.
d.  Apply pressure to each fastener to secure
Weatherstrip (1).
4-147