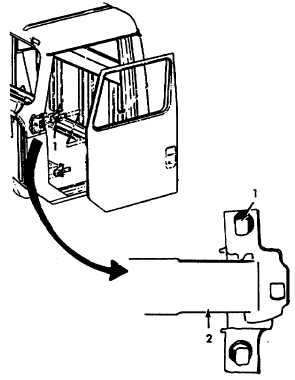 TM5-4210-299-14&P
4-131.  DOOR HINGE REPLACEMENT.
This task covers:
a.
Removal
b.
Installation
INITIAL SET-UP
Tools
General
Safety
Instructions
General Mechanics Tool Kit
Engine OFF.
Transmission in (N) neutral
Materials/Parts
Parking brake set.
Curbside Hinge Upper (475341C91)
Streetside Hinge Upper (475340C91)
Curbside Hinge Lower (475343C91)
Streetside Hinge Lower (475342C91)
Equipment
Condition
Para. Condition Description
4-130 Door Removed
REMOVAL
a.  To simplify door adjustment on reassembly, mark
hinge position on hinge pillar with scratch awl before
loosening hinges.
CAUTION
Flange  head  bolt  inside  pillar  can  best  be  removed
with  a  flex  socket.  Also  be  careful  when  extracating
bolt so as to avoid its loss inside pillar.
b.  Remove the three flange head bolts (1) and detach
door hinge (2) from hinge pillar.
INSTALLATION
a.  Install hinge (2) to hinge pillar and secure with three
flange head bolts (1).
b.  Install door (paragraph 4-130).
4-143