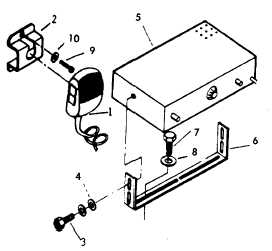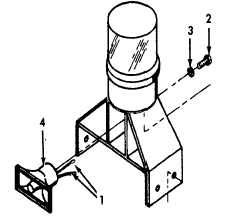 TM 5-4210-229-14&P
4-110.  SIREN/PUBLIC ADDRESS SYSTEM REPLACEMENT.
f.  Remove two screws (9) and lockwasher (10).
Remove microphone bracket (2).
g.  Remove siren and PA system from truck.
INSTALLATION
a.  Install microphone bracket (2) with two
lockwashers (10) and screws (9).
b.  Install mounting bracket (6) with two flatwashers
(8) and screws (7).
c.  Connect electrical connection to back of siren/PA
unit (5).
d.  Position siren and PA system control unit (5) to
mounting    bracket    (6)    and    secure    with    flat
washers (4) and two screws (3).
e.  Position microphone  (1) into microphone bracket
(2).
4-111.  EXTERNAL SPEAKER REPLACEMENT.
This task covers:
a.  Removal
b.  Installation
INITIAL SET-UP
Tools
General Mechanics Tool Kit
Materials/Parts
Speaker (PSE-58)
General
Safety
Instructions
Engine OFF.
Transmission in (N) neutral.
Parking brake set.
Batteries disconnected.
REMOVAL
a.  Cut nylon tie and remove wires from protective
covering.
b.  Disconnect two plugs (1).
c.  Remove bolt (2) and lockwasher (3) from rear of
speaker (4).
d.  Slide speaker (4) forward and remove speaker
(4).
INSTALLATION
a.  Slide speaker (4) into bracket and secure with
lockwasher (3) and bolt (2).
b.  Connect two plugs (1).
c.  Insert wires into protective covering and fasten
with nylon tie.
d.  Connect battery cables.
4-123