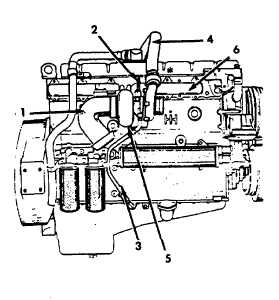 TM5-4210-229-14&P
4-87.  TURBOCHARGER REPLACEMENT (Continued).
d.  
Make certain that the oil inlet (2) and oil drain
lines  (3)  are  clean.    If  hoses  are  used,  make
certain  that  they  have  not  hardened  and  that
the  inner  lining  has  not  deteriorated  or  started
to flake off.  If metal tubing is used, make cer-
tain
that it is not restricted or collapsed.
e.  
Install the oil inlet (2) and drain lines (3) to the
crankcase   and   turbocharger   center   housing
rotating   the   turbocharger   center   housing   to
align the oil lines.
f.  
When     alignment     has     been     accomplished
scribe a mark on the center and turbine hous-
ings for reference.
g.  
Rotate the compressor housing to align the air
crossover   tube   (4)   and   hoses   to   the   intake
manifold.
h.  
Scribe   a   reference   mark   on   the   center   and
compressor housing.
i.  
Remove turbocharger from the engine and with
scribe  marks  in  alignment,  tighten  the  clamp
and   torque   bolts   to   100-130   ft-lb   (11.3-14.7
N.m) and bend the lock tabs on the lock-plates
to secure bolts.
j.  
Spin  the  wheels  of  the  turbocharger  (5).    The
shaft must rotate with no interference at either
end of the turbocharger (5).
k.  
Install the four mounting bolts and nuts on ex-
haust manifold (6).  Torque the bolts and nuts
to 35 ft-lb (47 N.m).
l.  
Install the exhaust outlet system.
m.
Remove the covers or plugs from the oil inlet
and outlet parts.  Using a new gasket, connect
the oil outlet tube (2).
n.  
With  a  squirt  can,  put  four  or  five  ounces  of
clean oil (Appendix D, Item 37) into the oil inlet
opening of the turbocharger (5).  This will pro-
vide  sufficient  lubrication  for  the  turbocharger
bearings  until  normal  engine  lubrication  is  es-
tablished.
o.  
Connect   the   oil   inlet   tube   (2)   to   the   turbo-
charger (5) using a new gasket.
p.  
Connect the air crossover tube (4) and hoses to
the  compressor  housing  outlet  and  tighten  the
clamps.
q.  
Connect  the  air  cleaner  turbocharger  connect-
ing hardware.
NOTE
Maximum  allowable  inlet  restriction  meas-
ured under full load varies according to the
application  but  is  always  less  than  30  in.
H20.
r.  
Intake  restriction  should  be  measured  with  the
engine under full load (maximum turbocharger
air flow) after turbocharger replacement.
s.  
Connect battery cables.
4-100