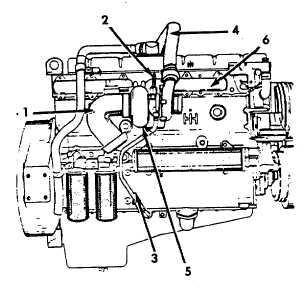 TM5-4210-229-14&P
4-87.  TURBOCHARGER REPLACEMENT
This task covers:
a.  Removal  
b.  Installation
Tools
General Mechanics Tool Kit
Materials/Parts
Turbocharger (1806078C91)
Oil (Appendix D, Item 37)
General
Safety
Instructions
Engine OFF.
Transmission in (N) neutral.
Parking brake set.
Batteries disconnected.
REMOVAL
a.  
Remove the exhaust elbow (1) by removing hex
head cap screws, nuts and lockwashers.
NOTE
The  exhaust  sleeve  is  loosely  held  and  must  be  sup-
ported when removed.
c.  
Disconnect the oil inlet tube (2) and drain tube
(3) from the center housing.  Remove and
discard all tube gaskets.
d.  
Loosen the clamps and remove the air cleaner
hose (pipe) from the compressor housing.
e.  
Loosen  the  clamps  on  the  air  crossover  tube
hose  (4)  at  the  air  compressor  housing.    Posi-
tion these parts away from the turbocharger (5).
f.  
Remove   all   four   turbocharger   mounting   bolts
and  lift  the  turbocharger  (5)  from  the  exhaust
manifold (6).
g.  
Remove the turbocharger gasket from the
exhaust manifold.
h.  
Cover or plug the exhaust manifold (6) and air
tubes.
INSTALLATION
NOTE
Prevent the entrance of foreign material by covering or
plugging  all  openings  into  the  turbocharger.    Covers
must remain in place until the turbocharger is installed
and all connections are secured.
a.  
Be sure all elbows and hoses are clean before
installing them.  Check the air cleaner, air in-
duction system and engine exhaust manifolds
for foreign material.
b.  
Inspect turbocharger mounting pad on the
manifold for presence of foreign material.
c.  
Using  a  new  gasket,  place  the  turbocharger
(5) on the exhaust manifold (6) and install the
four bolts   and   nuts.      Do   not   tighten   at   this
time.
4-99