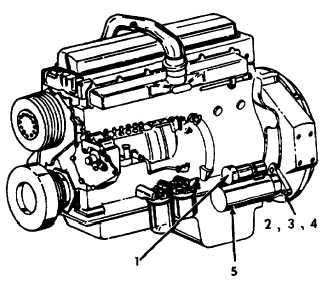 TM5-4210-229-14&P
4-86.  STARTER REPLACEMENT.
This task covers:
a.  Removal  
b.  Installation
INITIAL SETUP
Tools
General Mechanics Tool Kit
Materials/Parts
Starter (1990405)
General
Safety
Instructions
Engine OFF.
Transmission in (N) neutral.
Parking brake set.
Batteries disconnected.
REMOVAL
NOTE
When  disconnecting  starter  wires,  take  note  or  mark
wire leads appropriately for proper installation.
a.  
Disconnect  all  wires  from  terminals  on  starter
solenoid (1).
b.  
Remove  bolts  (2),  nuts  (3),  and  washers  (4)
which attach starter (5) to engine.
c.  
Pull starter (5) away from engine to remove.
INSTALLATION
a.  
Position starter (5) against fly wheel housing.
b.  
Install bolts (2), nuts (3) and washers (4).
c.  
Torque starter (long) bolts to engine to 28 ft-lb
(38 N.m).
d.  
Torque starter nuts to 7.4 ft-lb (10 N.m).
e.  
Torque starter (short) bolts to 24 ft-lb (32 N.m).
f.
Connect  all  wires  to  terminals  on  starter  sole-
noid (1).
g.  
Tighten  all  terminal  nuts  firmly.    Torque  the
terminal nuts no more than 6 ft-lb (8 N.m).
h.  
Reconnect battery cables.
4-98