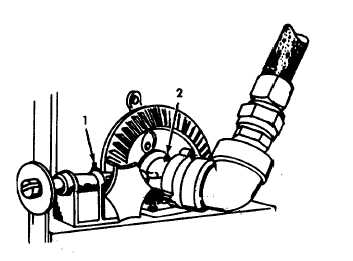 TM5-4210-229-14&P
4-37.  HOSE REEL ASSEMBLY MAINTENANCE (Continued).
b.
Secure   hose   reel   to   frame   with   four   bolts   (16),
lockwashers (15) and nuts (14).
c.
Position  rear  control  panel  (12)  to  hose  reel  (13)
and secure with three bolts (11), lockwashers (10),
and nuts (9).
d.
Connect streetside hose (7) to swivel joint (8).
e.
Connect curbside hose (5) to inlet elbow (6).
f.
Attach control wiring (3) to solenoid (4) and secure
with lockwashers (2) and nuts (1).
g.
Attach dual agent handline hoses (paragraph 4-40).
h.
Install nitrogen cylinders paragraph 4-16) and pres-
surize system (paragraphs 2-24 or 2-25).
SERVICE
a.
Lubricate   grease   fitting   (1)   on   the   brake   handle
assembly.  Pressure gun should be held on the fit-
ting until grease appears.
b.
Lubricate   grease   fitting   (2)   on   the   swivel   joint.
Pressure   gun   should   be   pumped   approximately
five times for proper servicing.
4-38.  HOSE ROLLERS REPLACEMENT.
This task covers:
a.
Removal
b.   Installation
INITIAL SET-UP
Tools
General
Safety
Instructions
General Mechanics Tool Kit
Engine OFF.
Transmission in (N) neutral.
Materials/Parts
Parking brake set.
Hose Rollers (R-281)
Equipment
Condition
Para.
Condition Description
2-23
Pressure Relieved in System
4-53