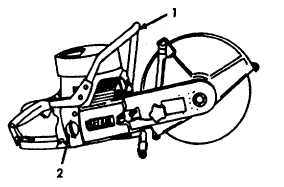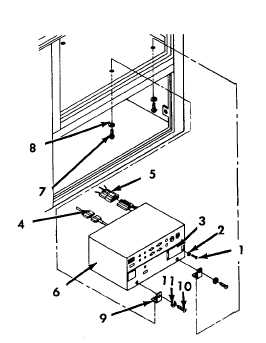 TM5-4210-229-14&P
4-21.  RESCUE SAW MAINTENANCE.
This task covers:  a.  Removal
b.  Service
c.  Installation
INITIAL SET-UP
Materials/Parts
Personnel Required:  2
Rescue Saw (K1200)
REMOVAL
Remove the rescue saw (1) from the bottom curb side
compartment.
SERVICE
NOTE
Use    a    mixture    ratio    of    1:25    gasoline
(Appendix D, Item 19A) to oil (Appendix D,
Item  37).    The  gasoline  and  oil  must  be
thoroughly mixed before being put into the
fuel tank.
Open fuel cap (2) and fill tank with gasoline/oil mixture.
4-22.  INVERTER MAINTENANCE
INSTALLATION
Insert  new  rescue  saw  (1)  into  bottom  curbside  com-
partment.
INITIAL SET-UP
Tools
General Mechanics Tool Kit
General
Safety
Instructions
Battery selector switch OFF.
Materials/Parts
Batteries disconnected.
Inverter (A40-120)
REMOVAL
a.
Disconnect remote control plug.
b.
Remove four screws (1) and lockwashers (2)
from control box (3).
c.
Remove control box (3).
d.
Disconnect control (4) and harness (5) on rear
of inverter.
e.
Tag and disconnect two circuit breaker wires
from inverter (6).
f.
Remove four mounting screws (7) and washers
(8).
g.
Lift inverter (6) with brackets (9) and remove
from compartment.
h.
If necessary, remove brackets (9) from inverter
(6) by removing four bolts (10) and washers
(11).
4-35