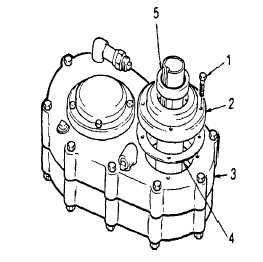 TM 5-4210-220-34
2-12.
PUMP DRIVE AND PTO - Continued
2-12.4
Reducer Gearbox.
This task covers
a.  Repair
b.  Overhaul
TOOLS
MATERIALS/PARTS
Shop Equipment, Automotive
10, Appendix B Dry Cleaning Solvent
Maintenance and Repair,
13, Appendix B Emery Cloth
NSN 4910-00-754-0705
22, Appendix B Pipe Sealant
29, Appendix B Threadlock Liquid
EQUIPMENT CONDITION
02-23-01262-200 Repair Kit
Reducer Gearbox Removed
(see TM 5-4210-220-12)
NOTE
Keep work area as clean as possible to prevent contamination of components.
REPAIR
NOTE
Reducer gearbox repair consists of replacement of leaking seals and gaskets and shaft end play adjustment.
There are two types of caps on the gearbox, an open cap through which shaft protrudes and a closed cap.
If an open cap is removed it is recommended that the oil seal be replaced.
(1)
Measure shaft  end  play  prior  to  the  removal  of  cap
and  record  these  readings.    If  end  plate  exceeds
.005 in. (0.127 mm) this indicates bearing wear.
(2)
If  unit  is  full  of  oil,  drain  it  into  a  clean  drain  pan.
Install drain plug and tighten.
(3)
Remove four capscrews (1) that retain the cap (2) to
the housing (3).
(4)
Remove cap (2) from housing (3).  The cap may be
loosened from the housing, by lightly tapping on the
corner   of   the   cap.      Never   pry   caps   off   because
damage may result.
(5)
Inspect   bearing   cone   and   caps   for   damage   as
described in para. 2-7.  If damage is evident refer to
OVERHAUL    following.        If    there    is    no    bearing
damage proceed to step 6.
(6)
Remove   cap   gaskets   (4)   using   a   putty   knife.      If
possible  count  and  record  the  number  of  gaskets
removed.
2-86