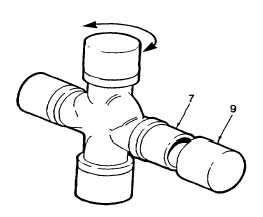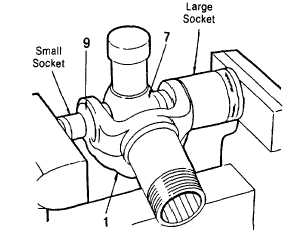 TM 5-4210-220-34
2-12.
PUMP DRIVE AND PTO - Continued
2-12.3
Reducer Gear To Pump Drive Shaft - Continued
(16)
Using dry cleaning solvent (item 10, Appendix B), wash universal joint cross (7) and bearing caps (9).
WARNING
Death  or  serious  injury  could  occur  if  compressed
air   is   directed   against   the   skin.      Do   not   use
compressed  air  for  cleaning  or  drying  unless  the
pressure   is/has   been   reduced   to   30   psi   (2.11
kg/cm2)  or  less.    When  working  with  compressed
air  always  use  chip  guards,  eye    protection    and
other  personal  protective equipment.
(17)  Dry components using compressed air.  Blow
out grease passages in the cross (7).
(18)  Apply   a   small   amount   of   grease   (Item   16,
Appendix   B)   to   each   bearing   cap   needle
bearing.
(19)  Install  and  test  bearing  cap  (9)  on  cross  (7)  journals  as  shown.    The  movement  must  be  smooth  and
resistance free.
(20)  If any one component fails testing, the complete universal joint must be replaced.
NOTE
Universal joint installation procedures will be similar for both the slip joint yoke (1) or the tight end yoke
(2)  except  the  tight  end  yoke  also  has  a  flanged  yoke.    This  means  that  for  tight  end  universal  joint
installation the following procedure will have to be carried out twice.
(21)  Tilt the cross (7) and install one journal into slip joint yoke hole.
(22)  Allow one journal of the cross (7) to protrude
through the yoke hole.  Install a bearing cap
(9)   onto   the   protruding   cross   journal   and
press in handtight.
(23)  Use shop vise as a press.  Place the slip joint
yoke (1) between the vise jaws and begin to
close  the  vise.    Continue  to  tighten  the  vise
until   the   bearing   cap   (9)   is   flush   with   the
yoke lug.
(24)  Allow  the  opposite  arm  of  the  cross  (7)  to
protrude   through   the   other   slip   joint   yoke
hole.      Install   a   bearing   cap   (9)   onto   the
protruding
cross
journal
and
press
in
handtight.
2-84