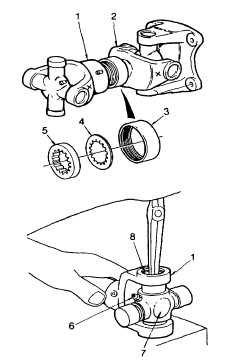 TM 5-4210-220-34
2-12.
PUMP DRIVE AND PTO - Continued
2-12.3
Reducer Gear to Pump Drive Shaft.
This task covers
Repair
TOOLS
MATERIALS/PARTS
Shop Equipment, Automotive
10, Appendix B Dry Cleaning Solvent
Maintenance and Repair,
16, Appendix B Grease
NSN 4910-00-754-0705
EQUIPMENT CONDITION
Reducer Gear to Pump Drive Shaft Removed (see
TM 5-4210-220-12)
REPAIR
NOTE
Reducer gear to pump drive shaft repair is limited to replacement of universal joints.
If drive shaft slip joint or tight end are damaged in any way, replace the complete drive shaft
assembly including the universal joints.
(1)
Mark slip joint (1) position before separating to
ensure     alinement     of     components     during
assembly.
(2)
Unscrew  dust  cap  (3)  from  slip  joint  (1)  and
separate slip joint (1) from tight end (2).
(3)
Remove the cork washer (5), steel washer (4),
and dust cap (3) from the tight end (2).
(4)
Wipe  excess  grease  from  tight  end  (2),  and
slip  joint  (1),  and  inspect  splines  for  damage
such   as   wear,   pitting,   rolling,   peening   and
fatigue cracks.
(5)
Evidence  of  damage  of  any  kind  is  cause  for
rejection.        Replace    complete    drive    shaft
assembly.    If  no  damage  is  found,  continue
with step 6.
(6)
Remove grease fittings (6) from cross (7).
(7)
Remove two snap rings (8) from tight end (1).
NOTE
Universal joint removal procedure will be similar for both the slip joint yoke (1) or the tight end yoke
(2) except the tight end yoke also has a flanged yoke.  This means that for tight end universal joint
removal the following procedure will be carried out twice.
2-82