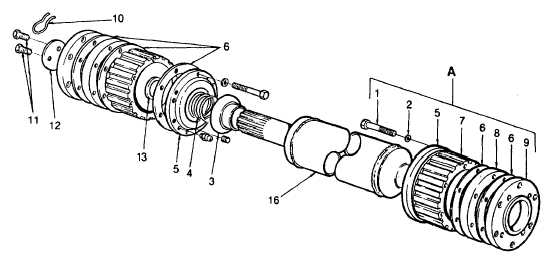 TM 5-4210-220-34
2-12.
PUMP DRIVE AND PTO - Continued
2-12.2
PTO to Reducer Gear Drive Shaft.
This task covers
Repair
TOOLS
MATERIALS/PARTS
Shop Equipment, Automotive
10, Appendix B Dry Cleaning Solvent
Maintenance and Repair,
14, Appendix B Gasket Eliminator
NSN 4910-00-754-0705
16, Appendix B Grease
29, Appendix B Threadlock Liquid
EQUIPMENT CONDITION
E3-81-59 Gasket
PTO to Reducer Gearbox Drive Shaft Removed
(see TM 5-4210-220-12)
NOTE
PTO to reducer gear drive shaft repair is limited to replacement of the disc joints.
If drive shaft tube or splined section is damaged in any way replace the complete drive shaft
assembly, including the disc joints.
REPAIR
NOTE
The disc joints are not repairable.  If a disc joint is worn or damaged, replace it.
Both  disc  joints  are  similar.    One  is  locked  to  the  drive  shaft  whereas  the  other  is  a
slipping disc joint.  Procedures below refer to either disc joint except where noted.
(1)
Pull slipping disc joint assembly (A) from drive shaft (16).
2-78