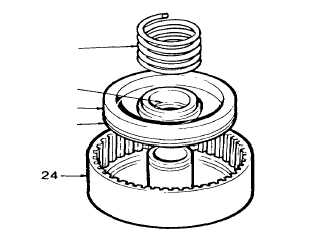 TM 5-4210-220-34
2-12.
PUMP DRIVE AND PTO - Continued
(5)
Inspect clutch discs (39 and 40).  Discard any that show signs of overheating.  Using a vernier caliper,
measure the thickness of each clutch disc.  Discard any that do not fall within specification listed below.
#
Item
ThicknessTolerances
39
Opposing Clutch Disc
.068 .070 in.  (1.73 1.78 mm)
40
Bronze Clutch Disc
0605 .063 In.  (1.54 1.6 mm)
(6)
Inspect bearings, shafts, and gears as detailed in para 2-7.  Make sure oil passage in drive shaft (30) is
not clogged.
(7)
Inspect companion flange splines, seal area, and mounting flange.
(8)
Inspect bearing covers (18 and 29) for cracks, warping or any other damage that may cause oil leaks.
c.
Assembly
NOTE
Lubricate seals and bearings using petroleum jelly (item 21, Appendix B) prior to assembly.
(1)
Assemble  spider  gear  assembly  as  detailed
in the following steps.
(2)
Lubricate  block  vee  rings  (33  and  34)  using
petroleum  jelly  (item  21,   Appendix   B)   and
install   onto   piston   (35).      Make   sure   the
sealing lips of the block vee rings are facing
away from the spring seat.
(3)
Install  piston  assembly  (35)  into  spider  gear
assembly (24).  Use extreme care so as not
to  damage  the  block  vee  rings  (33  and  34)
during   installation.      Twist   piston   assembly
into spider gear assembly to ensure piston is
fully seated.
(4)
Install  spring  (36)  into  spring  seat  of  piston
(35).
(5)
Install retainer (37) onto spring (36) and compress using hand pressure.  Lock into position using lock
ring (38).
(6)
Install  one  opposing  clutch  disc  (39)  and  then  install  one  bronze  clutch  disc  (40).    Continue  to  install
clutch discs in this staggered manner until all 14 clutch discs are installed.  Make sure a bronze clutch
disc is installed last.
(7)
Install  clutch  stop  spacer  (47)  and  lock  into  position  using  lock  ring  (41).    Set  assembled  spider  gear
assembly (24) aside.
(8)
Press bearing (22) onto drive shaft (30).  Make sure bearing is fully seated against mounting shoulder.
Lock bearing into position by installing lock ring (23).
2-73