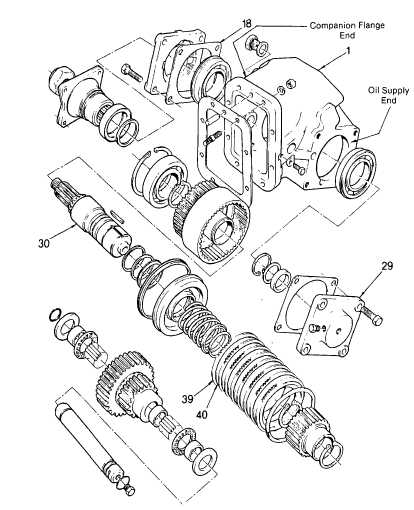 TM 5-4210-220-34
2-12.
PUMP DRIVE AND PTO - Continued
(2)
Wash all PTO components using dry cleaning solvent (item 10, Appendix B) except for opposing clutch
discs and bronze clutch discs.
WARNING
Death or serious injury could occur if compressed air is directed against the skin Do not use compress air for
cleaning or drying unless the pressure is/has been reduced to 30 psi (2.11 kg/cm2) or less.  When working
with compressed air always use chip guards, eye protection and other personal protective equipment.
(3)
Dry all components using compressed air.  Wipe opposing clutch discs (39) and bronze clutch discs (40)
using a clean, dry, lint-free cloth.
(4)
Inspect  housing  (1)  for  cracks,  stripped  threaded  holes,  oblong  bearing  and  shaft  holes  or  warped
mating surfaces.
2-71