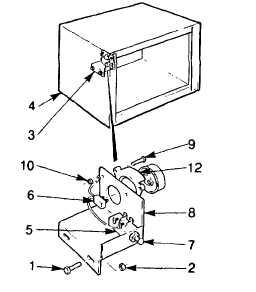 TM 5-4210-220-34
2-11.
HOSE BODY - Continued
2-11.1    Hose Body Assembly - Continued
m.
Compartment Lamp Bracket Repair
NOTE
There are fourteen compartment lamp brackets; seven are left hand brackets.
Repair procedures will be the same for all fourteen brackets.
(1)     If hose body is still mounted on truck, disconnect batteries, see TM 5-4210-220-12.
(2)     If necessary, remove all auxiliary equipment from compartment box.
(3)     Remove  compartment  lamp  bracket  (8)  from  compartment  box  (4),  by  removing  two  capscrews  (1)  and
locknuts (2).  Discard locknuts.
(4)     If bracket (8) needs to be straightened or replaced remove lamp assembly (12) as detailed in  TM 5-4210-
220-12.
(5)     Remove   switch   (5)   from   bracket   (8)   by
removing nut (7).
(6)     Straighten bent or dented bracket (8) using
basic body repair tools.
(7)     If damage is excessive, replace bracket (8).
(8)     Install  switch  (5)  into  bracket  (8).    Thread
nut (7) onto switch stem and tighten firmly.
Make   sure   electrical   connections   are   not
contacting bracket (ground).
(9)
Install   compartment   lamp   assembly    (12)
onto  bracket  (8)  as  detailed  in  TM  5-4210-
220-12.
(10)  Attach compartment lamp bracket to compartment box (4) using two capscrews (1) and new locknuts (2).  Do
not tighten.
(11)  Adjust compartment lamp bracket so that when compartment door is closed,  inner  panel  depresses  switch
plunger and light shuts off.
n.
Stiffener
NOTE
There are two box stiffeners used on the left hand compartment box assembly.
This instruction assumes the hose body is being rebuilt with new compartments and compartment top.
2-52