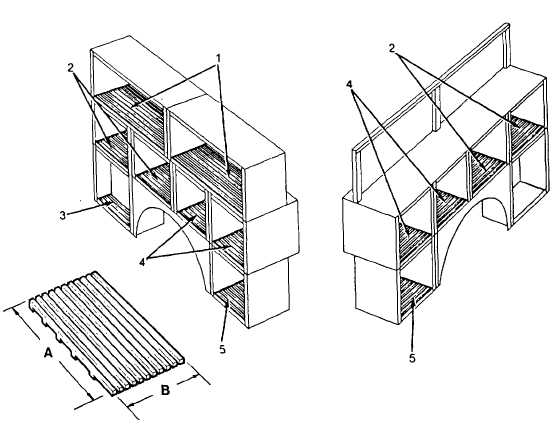 TM 5-4210-220-34
2-11.
HOSE BODY - Continued
2-11.1
Hose Body Assembly - Continued
(6)     If fender skirt (5) needs to be replaced, remove lockbolt (7) and lockbolt collar (6), see para. 2-7.
(7)     Apply a 1/8 in.  (3 mm) bead of sealant (item 25, Appendix B) on fender skirt and compartment box mating
surface.
(8)     To install fender skirt (5), lift into position between compartment boxes.  Install new lockbolts as detailed in
para.  2-7.
(9)     To install new rubber fender either use fender plate (2) or fender skirt (5) as a template to mark out mounting
holes.  Drill 19 mounting holes to 17/64 In.  (6.75 mm).
(10)  Aline  new  fender  (1)  and  fender  plate  (2)  with  fender  skirt  (5).    Install  19  capscrews  (3)  and  locknuts  (4).
Torque locknuts to 7 ft lb (10 Nm).
f.
Compartment Matting Repair
NOTE
There  is  no  compartment  matting  repair.    If  any  compartment  matting  is  damaged  or  missing  replace  it
with new.
(1)     Remove all equipment from compartment box, and remove damaged compartment matting.
(2)     Cut desired size of compartment matting from matting roll.  Use following illustration and legend to determine
size needed for a specific compartment box.
2-48